Click here for a listing of additional academic competitions available to UC Merced undergraduate students.
---
Strauss Scholarship
https://www.straussfoundation.org/
Upcoming Events & Deadlines
November 15, 2023 4:00 pm-5:00 pm: Strauss Foundation Scholarship Webinar. Register here.
December 15, 2023: Optional Campus Intent to Submit Notice (see more below)
Friday, February 9, 2024: Campus Deadline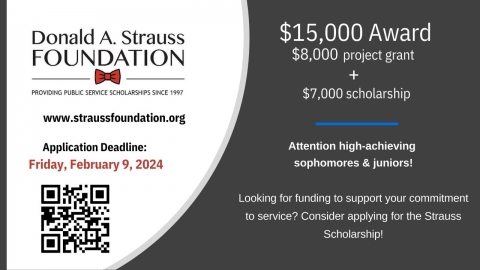 The Donald A. Strauss Scholarship provides a $15,000 award, consisting of a $7,000 scholarship and an $8,000 project grant. Applicants must be sophomores and juniors who will use the grant to pursue a self-initiated public service project during the year after winning the award. The project may be a new undertaking or an extension of an existing project. The Strauss Foundation annually awards the scholarship to students from twenty-two eligible California institutions, including UC Merced.
Click here for the UC Merced November 2022 Information Session Recording
Eligibility Requirements
full-time sophomore or junior
have a GPA in the upper third of class
have outstanding leadership potential
have a passion for social change, public service or social entrepreneurship 
Campus Intent to Submit Notice
UC Merced students who are considering submitting an application are encouraged to complete the Intent to Submit Notice (link coming soon) as soon as possible but no later than December 15, 2023. The form will ask for your year, major and contact information and a brief description of your project. Once submitted, we will reach out to connect you with support and coaching as you develop your proposal. Note that completion of a Campus Intent to Submit Notice is not required for you to submit an application. 
Selection Criteria
Projects will be selected by a committee of UC Merced faculty and staff, based on the following criteria

Project

Demonstrated connecting between project and applicant's passion
Innovative and timely approach to addressing important issues
Realistic in scope, implementation and timeline
Clear articulation of intended impact and measures of success
Sustainable and designed to continue after initial implementation

Applicant

meets class and GPA requirements
will graduate no earlier than June 2025
demonstrated interest in public service, social change or social entrepreneurship 
commitment to positively impacting local, regional or national communities
leadership potential
effective communication skills
Additional guidance about expectations for projects can be found here: https://www.straussfoundation.org/what-we-are-looking-for.  
Application Process
Campus Deadline: Friday, February 9, 2024.
Resume (one page) that includes current and past public service 
Personal Essay (one page)
Project Proposal (4 pages, including budget and timeline, more at https://www.straussfoundation.org/resources-for-applicants)
Two or three letters of recommendation
Transcript (unofficial or photocopy are acceptable)
All materials should be submitted through the 2023-2023 UC Merced Strauss Scholars Form, with the exception of letters of recommendation which may also be submitted from authors to akimble@ucmerced.edu. All materials, including letters of recommendation, must be received no later than Friday, February 9, 2024. 
Resources for Applicants