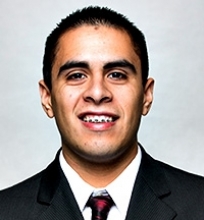 "Start something new" could be the unofficial motto of UC Merced. Even in our 10th academic year, many opportunities for innovation still exist on campus.
Armando Lomeli, a senior from Los Banos, wouldn't have it any other way.  As a psychologyOpens a new window major minoring in both SpanishOpens a new window and managementOpens a new window, he embraces the pioneering spirit for which the campus is known.
Armando Lomeli"You don't have to participate in everything here, but I like that everyone is encouraged to do something that falls in line with their interests or hobbies," Lomeli said.
A review of Lomeli's life shows his interest lies in getting things started. In high school, he helped charter a DECA chapter on his campus. The organization's focus on entrepreneurship and business leadership piqued Lomeli's interest, but he had no idea that it would lead to his involvement in three new student groups in college.
At UC Merced, he has helped charter the Regents Scholars SocietyOpens a new window, the National Society of Collegiate ScholarsOpens a new window and, most recently, Sigma Delta PiOpens a new window, the National Collegiate Hispanic Honor Society.
"As freshmen, when my fellow Regents ScholarsOpens a new window and I arrived at UC Merced, there was no system in place for us to meet other Regents Scholars on campus," Lomeli said. "We'd have to travel to the Regents Scholars Conferences at other campuses to meet our peers."
Though some would look at his campus involvement as being a departure from his academic focus, Lomeli sees things differently.
"What I've learned in my management classes is that collaborating with other people is an important part of effective business," he said. "And as a psychology major, I've learned a lot about people."
That knowledge has also led Lomeli to adopt some behaviors that are unusual for undergraduates. For instance, Elinor Torda, who has taught Lomeli in his Spanish classes, marvels at his commitment to the language and culture. Lomeli is a regular presence during office hours, a long-time member of the Spanish Club and a reliable presence at campus talks and events related to the Spanish-speaking world.
"You expect students in the major to immerse themselves in their studies, but a minor doesn't usually carry the same weight for undergraduates," Torda said. "He is one of the hardest-working students I know, and he demonstrates a genuine interest in the language and culture."
Lomeli considers his habits an investment in his future, and he encourages other students to do the same.
"You get good grades by understanding classroom subject matter, and taking advantage of a professor's office hours is the best way to make sure you understand the information presented in class," he said. "It's also the best way to get personal attention from your professor, to set yourself apart from the rest of the class."